IWC Schaffhausen Brand Review
---
Swiss Luxury Watch Brands Reviews Menu
---

Shop IWC Schaffhausen Watches:
---
IWC – Swiss Luxury – German Functionality & Precision
IWC Schaffhausen Brand Review By Alexander – Founder and Owner of swissdiverswatches.com
---
A Review of IWC Schaffhausen's history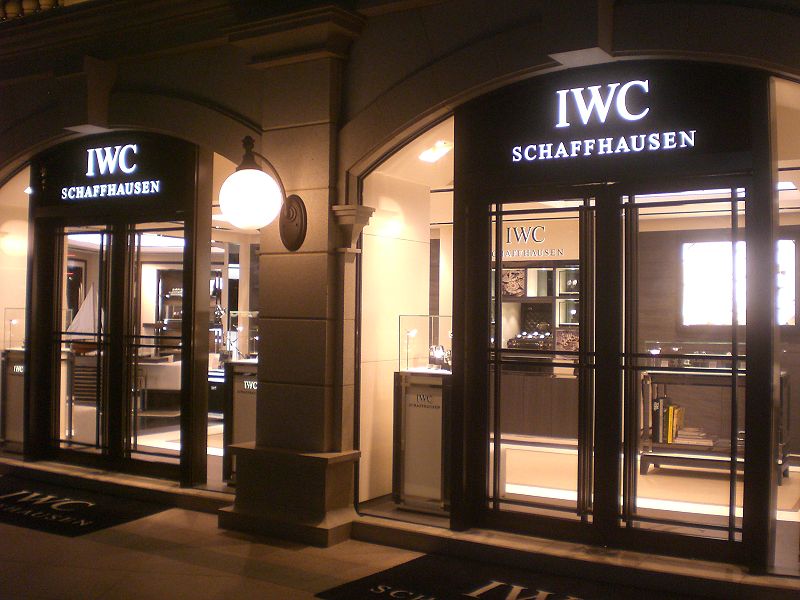 In 1868 the American watchmaker Florentine Ariosto Jones established IWC Schaffhausen. He previously served as the director of the American watch company "E. Howard & Co" in Boston, Massachusetts, which was the leading watch company in America at that time. The headquarters of IWC is located in the Swiss city of Schaffhausen.
Today IWC is wholly owned by Richemont Group.
The official name of the brand is "IWC Schaffhausen", but can also be referred to as "IWC" or "Schaffhausen". These names are and can be used interchangeably.
IWC stands for International Watch Company and Schaffhausen refers to a small Swiss city called Schaffhausen, near the Swiss-German border. Unlike most Swiss luxury watch manufacturers, IWC is located in eastern and northern Switzerland. Most Swiss luxury watch manufacturers are located in western Switzerland close to the French border.
In 1868, Florentine Ariosto Jones established IWC Schaffhausen. He wanted to combine modern American engineering technology with traditional Swiss craftmanship. He decided to create the International Watch Company (IWC) in the Swiss city of Schaffhausen, and the company has since then been one of the most prestigious and well known Swiss luxury watch brands. Mr Jones' intention was to create pocket watches of high quality for the American market.
In 1875, the watchmaker constructed its current headquarters on the banks of the River Rhine.
In 1880, Johannes Rauschenbach-Vogel, an engine manufacturer, acquired IWC.
In 1881, Johannes Rauschenbach-Schenk took over the leadership of IWC following the death of his father.
In 1885, the watch manufacturer invented the first digital watches. They used the so called Pallweber System.
In 1887, the brand manufactured a pocket watch called Magique with a 24-hour display.
In 1899, the legendary Swiss watch manufacturer released one of the first wristwatches intended for the market.
In 1905, Ernst Jakob Homberger – a Schaffhausen industrialist, took over the management of IWC following the death of Johannes Rauschenbach.
In 1915, IWC designed two new calibres – calibre 75 (without seconds), and calibre 76 (with small second hands) specifically for wristwatches.
In 1929, Ernst Jakob Homberger became the sole owner of IWC since he acquired the holding of his brother-in-law C.G. Jung.
In 1931, the brand designed rectangular and elegant watches equipped with the new 87 calibre.
In 1936, IWC launched its first Special Pilot's Watch. The watch was equipped with a rotating bezel used to measure and register take-off times. The watch was also equipped with an anti-magnetic escapement.
In 1939, IWC launched the IWC Portuguese Watch. It's called Portuguese since two Portuguese importers ordered large wrist-watches with highly accurate and precise calibres taken from pocket watches.
IWC Portuguese is an absolute classic within the IWC brand.
(Image By Ferengi)
In 1940, IWC launched the Big Pilot's Watch 52 T.S.C. equipped with a central seconds hand. These watches date back to an era when aviation was still romantic and adventurous, and when men and women took their first fledgling steps to conquer the airspace.
Instead of conjuring images of modern commercial airliners, and high-technological fighter jets, think of old open propeller-driven aircrafts, brown pilot jackets made of leather, goggles, and scarfs.
Note the oversized dial and the huge crown!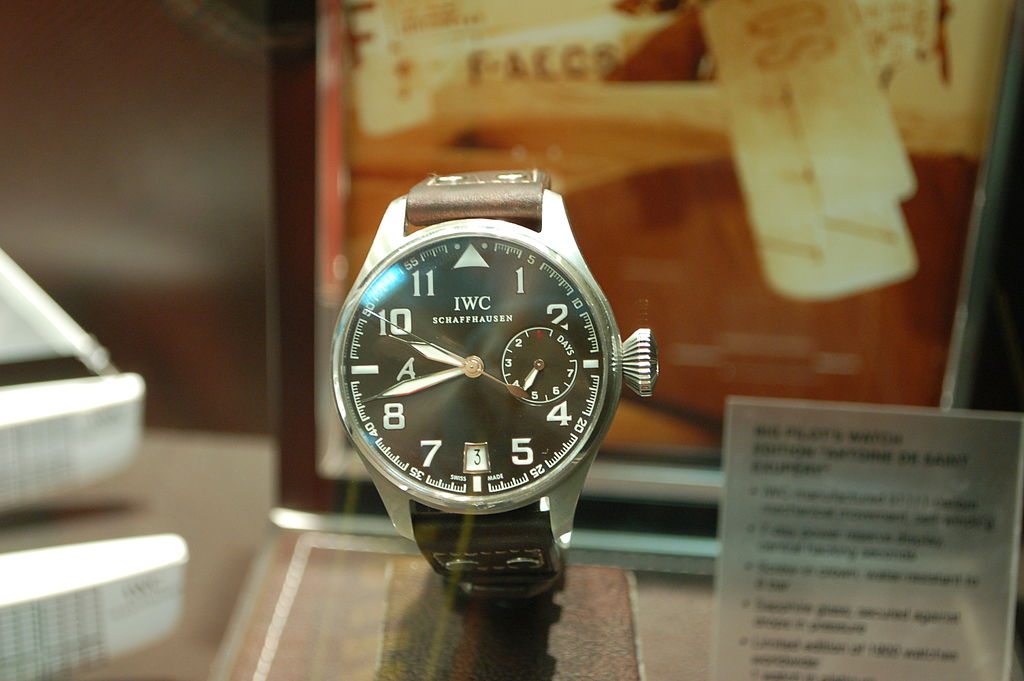 (Image By Ferengi)
In 1944, the legendary Swiss watch manufacturer developed a new military watch called W.W.W. – which stands for "Watch, Wrist, Waterproof". The watch was used by the British army. The same year, Albert Pellaton became the new Technical Director of IWC.
In 1946, IWC released the highly accurate 89 calibre designed by Albert Pellaton.
In 1948, the Swiss brand released the Pilot's Watch Mark 11 equipped with Albert Pellaton's 89 calibre. This watch was equipped with an inner case mad of soft iron which made the watch highly protected against magnetic fields.
In 1950, Albert Pellaton designed calibre 85 – IWC's very first automatic movement. This is an interesting invention because Albert Pellaton designed the new and maybe groundbreaking pawl-winding system which replaced the traditional and conventional reciprocal gearing. IWC was granted a patent for this proprietary invention.
In 1955, Hans Ernst Homberger became the very last owner of IWC. The Ingenieur Collection with automatic movements was launched the same year.
Below: IWC Ingenieur.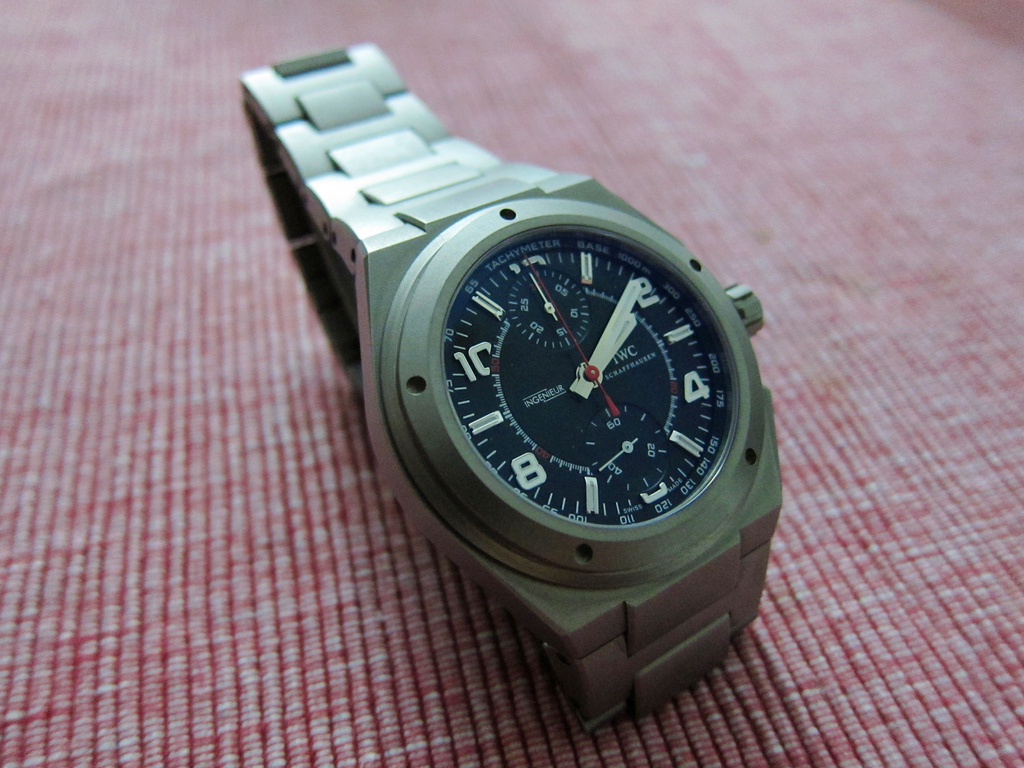 In 1959, the company designed the very first automatic movement for women, called calibre 44.
In 1967, the watch producer developed and released its divers watches – the famous Aquatimer Collection.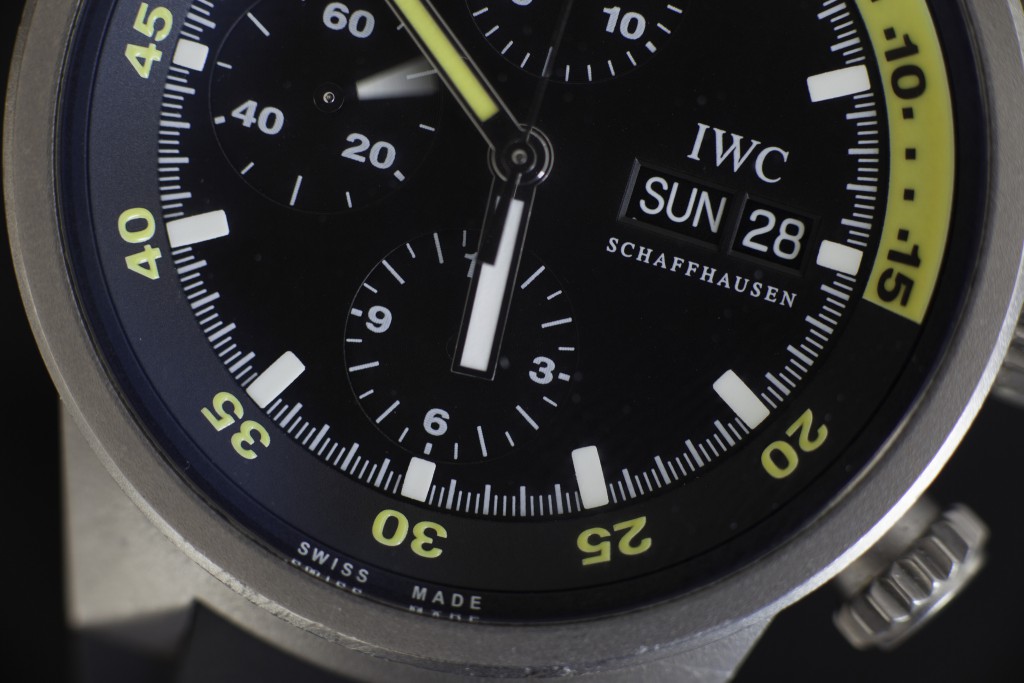 (Image By Jimmy Baikovicius)
In 1969, the brand was involved in the development of a quartz movement called Beta 21. This calibre was designed for wristwatches.
In 1976, IWC developed the new Ingenieur SL.
In 1977, the watch producer unveiled the first pocket watch with a moon display and calendar display. The movement that was used was the 9721 calibre. The same year IWC started constructing its complications.
In 1978, the company co-operated with F.A. Porsche which resulted in the first wristwatch equipped with a built-in compass. The same year, the German instrument manufacturer VDO Adolf Schindling AG purchased IWC.
In 1980, the watchmaker developed and manufactured the world's very first chronograph in a titanium case. It was designed by F.A. Porsche. Through a co-operation with Aérospatiale, IWC acquired the required expertise in the machining of titanium.
In 1982, the brand launched an extremely rugged Ocean 2000 divers watch. It was pressure resistant to 200 bar and was made of titanium.
In 1985, IWC developed a true masterpiece: a chronograph with a perpetual calendar that was mechanically programmed for the next 500 years! The watch was also equipped with a four-digit display.
In 1986, the Swiss luxury brand started to use a scratch-resistant and unbreakable ceramic material called zirconium oxide, for its cases.
In 1987, the watch producer developed and manufactured its very first rectangular, automatic, water-resistant watch equipped with a perpetual calendar.
In 1990, IWC released a true masterpiece. After 7 years of research, IWC released a wristwatch with a Grande Complication with several functions- such as a moon phase display, perpetual calendar and minute repeater.
In 1993, IWC developed the then most complicated wristwatch of the World called Il Destriero Scafusia – "The Warhorse of Schaffhausen". It contains several features and complications such as a tourbillon, perpetual calendar, split-seconds and minute repeater. It was a limited edition of 125 pieces to celebrate the 125th anniversary of IWC.
The same year, IWC also manufactured and released a limited edition of the famous IWC Portuguese Watch – also to celebrate IWC's 125th anniversary.
In 1994, the company released the Pilot's Watch Mark XII. It maintained the tradition of Mark 11.
In 1995, the brand released a special Da Vinci Split-Seconds Chronograph to celebrate its 10th anniversary.
In 1997, the watch manufacturer released a new line of sports watches called the GST.
In 1998, IWC released the Pilots Watch UTC. UTC stands for Universal Time Coordinated. The special features of the watch included an hour-hand that could be adjusted in one-hour steps and a display of 24 hours.
In 1999, the company designed the GST Deep One divers watch. This was the first divers watch with a mechanical depth gauge manufactured by IWC.
In 2000, Richemont International SA purchased IWC. The same year, IWC released a new in-house made movement for large wristwatches. The movement is the 5000 calibre with a 7 day power reserve, the Pellaton automatic winding system and a power display feature.
In 2002, IWC presented its new Big Pilot's Watch with a 7-day power reserve, power reserve indicator, and automatic winding. The watch was presented at Salon International de la Haute Horlogerie (SIHH) in Geneva, Switzerland.
In 2003, the luxury watch brand released its Portuguese Perpetual Calendar Watch.
In 2004, IWC relaunched the Aquatimer Collection – the IWC divers watches. The original Aquatimer Collection was released in 1967.
In 2005, the brand could boast with 10 premieres within one single year. This year, IWC launched several new additions to its brand.
In 2006, IWC released five classic pilots watches with a slightly modified design. The watches included the Pilots Watch Chronograph and the Big Pilots Watch.
In 2007, the watchmaker released a tonneau-shaped Da Vinci Collection.
In 2008, the brand from Schaffhausen celebrated its 140th anniversary by paying homage to the founders of IWC's 6 watch families through an IWC Vintage Collection. The same year, the West Annexe of IWC's headquarters was completed.
In 2009, IWC released a new generation of technically improved Aquatimer divers watches.
In 2010, the company released quite a few new models within the Portuguese collection. The same year, IWC released the Portuguese Grande Complication.
In 2011, the watchmaker introduced a new Portofino line.
In 2012, IWC released five new Top Gun pilots watches.
In 2013, the watch manufacturer released a new Ingenieuer line.
---
A Review of IWC Schaffhausen's mission
IWC's purpose is to create premium timepieces based on an exclusive design and on engineering precision.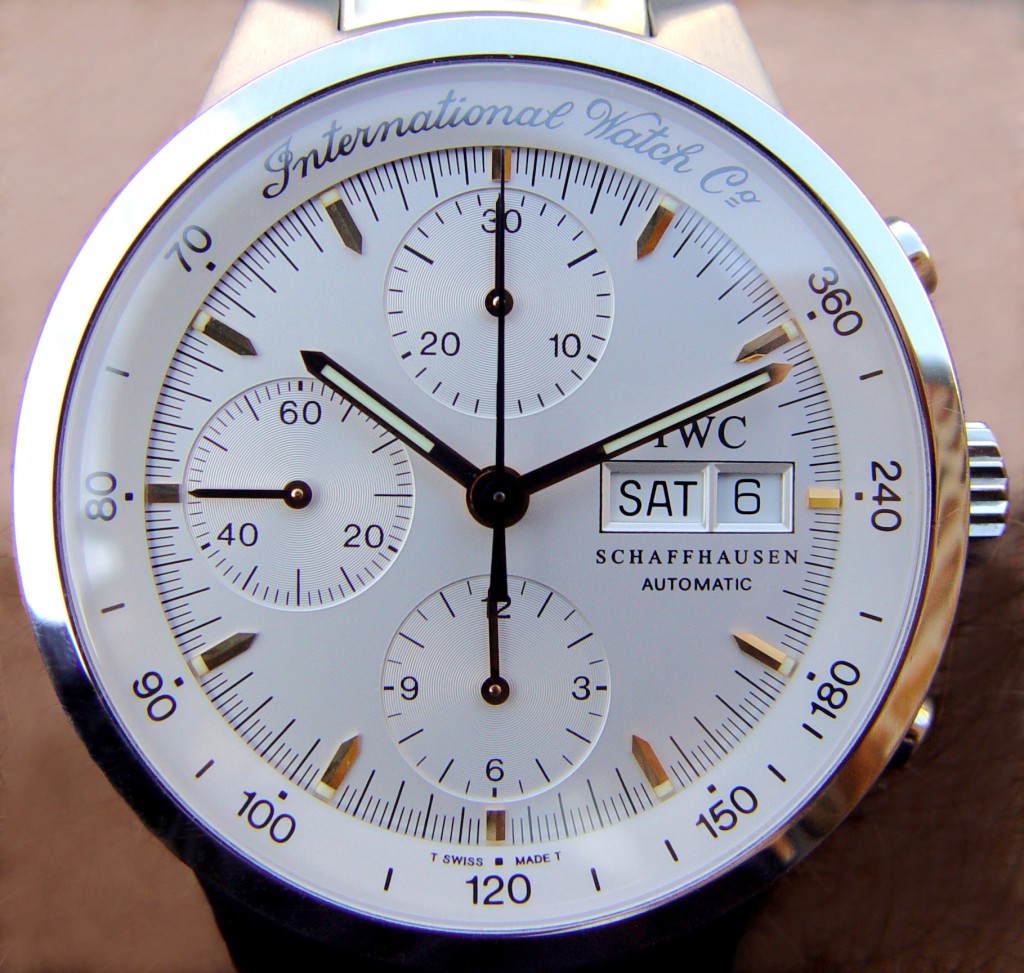 (Image By Jacob Seligmann)
IWC's intention is to:
to manufacture highly accurate timepieces of lasting value.
to place an emphasis on technology and development.
to focus on technical inventiveness, innovative solutions, and a passion for watchmaking.
---
A Review of IWC Schaffhausen's manufacture
Just like other Swiss luxury watch brands, IWC too conceives a concept – an idea, and tests the idea through advanced computer programs, before the actual production and commercialization take place.
Below: The IWC factory in the Swiss city of Schaffhausen, in northern Switzerland.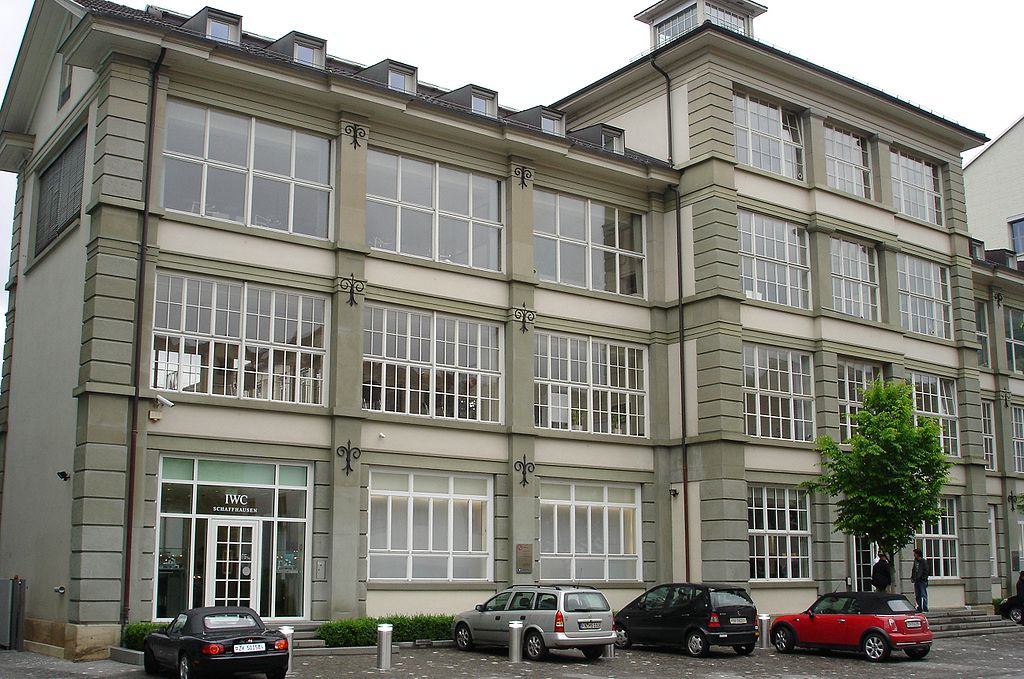 The development starts with conceiving a concept – what exact function or feature in a watch is the manufacturer striving to achieve and produce. The main question that the company asks itself, is what IWC really wants to achieve with the new watch. This very question constitutes the basis for the technical features of the new watch.
The design of the dial and the strap are obviously also taken into consideration. IWC relies on modern production technology for the manufacture of their watches. Designers and engineers might even rely on old drawings for inspiration. IWC just like other Swiss luxury brands relies on a multitude of methods in conceiving and developing new timepieces.
The tests consist of computer programs simulating the behavior of the timepiece under extreme, everyday and practical conditions – that is computer programs that simulate daily usage of the watch. High speed cameras and X-rays are also used to test the quality of an IWC timepiece.
IWC subjects their watches to a multitude of exacting and demanding tests, such as qualification and approval process (testing every single conveivable scenario of daily usage of a watch), impact tests (shocks and accelerations), abrasion tests (everyday wear and tear), climate tests (extreme differences in temperatures ranging from Arctic regions to deserts and rainforests), corrosion and UV tests (materials need to withstand corrosion, and the dial's color musn't change due to the ultraviolet light).
IWC might even use "practical tests" where people are in real life situations, such as climbing the mountains, diving, playing golf etc.
The assembly consists of highly modernized production of the movement's components and the manual assembly of the movements by professional watchmakers. In this sense it resembles other Swiss luxury brands.
The customisation involves a final inspection of the watch – including the performance of the automatic movement after 10 days. Some individual customers may even ask IWC to set a more personal touch on a watch such as engraving.
The service involves maintenance service of the watch and a complete service where the entire watch is disassembled, old parts are discarded and replaced with new ones, old partially functioning parts are repaired and the watch is tested for accuracy and water resistance. This kind of service is indeed similar to the service offered by other Swiss premium brands.
---
A Review of IWC Schaffhausen's movements
IWC Schaffhausen does offer in-house movements, but the divers watches – the Aquatimer watches – use predominantly ETA/Valjoux movements manufactured by Swatch Group.
IWC automatic movement 30110 – base movement is ETA 2892A2 with 21 jewels, 28,800 vph.
IWC automatic movement 79320 – base movement is ETA 7750 with 25 jewels, 28,800 vph. This movement is used for chronographs.
IWC in-house automatic movement 89360 with 40 jewels, 28,800 vph. This movement is used for Aquatimer chronographs with an 18 carat rose gold case.
---
A Review of IWC Schaffhausen's reputation
IWC Schaffhausen has an excellent reputation – no question about it. IWC is one of the most prominent Swiss luxury watch brands, and manufacturers in the world. IWC offers their watches at retailers all over the world.
As far as ranking is concerned, I would place IWC in the category of the top 12 luxury brands of the world.
If you are looking for a Swiss luxury wristwatch brand with a long, respected and venerable history, IWC is definitely the right choice! The brand has existed since 1868.
If you are looking for a fully independent Swiss watchmaker, you should know that IWC isn't an independent watchmaker anymore and is fully owned by Richemont International SA.
The major strenght of IWC is that it offers a wide range of collections – dress watches, sports watches and divers watches, and that the brand does to a certain extent manufacture their own movements and even offers some complications, even though it is commonly known that IWC relies heavily on ETA/Valjoux movements from Swatch Group.
If you have a slight streak of snobbery and you prefer in-house made movements, you will unfortunately not find too many in-house movements among IWC's divers watches – the Aquatimer timepieces.
IWC does offer in-house movements in some of their collections, but the Aquatimer collection uses primarily standardized ETA/Valjoux movements.
As far as movements are concerned IWC is known to be a reliable and dependable time measuring machine.
The reason I say that IWC's movements are reliable and dependable is because their in-house movements have as far as I know, a good track record. IWC's ETA/Valjoux movements, which they procure from Swatch Group, might be standardized and generic, but they are robust and accurate. If you're even slightly concerned with accuracy, then my recommendation is not to be concerned at all. You can indeed trust IWC.
The major weakness of IWC in my opinion is its rather boring and uninspiring design.
IWC's design leaves a lot to be desired. Many watch enthusiasts maintain that it is as if the brand makes a deliberate effort to be tepid and insipid. However this is my personal opinion and my personal taste – this has in no way any practical relevance for the quality of the timepiece. As a time measuring machine, there is absolutely nothing wrong with IWC. On the contrary.
I have tremendous respect for IWC because the brand truly knows how to manufacture excellent watches with excellent movements, but the brand fails to excite me. There are millions of people across the world that love IWC. I respect the brand but that's as far as my feelings would go.
IWC's divers watches – the Aquatimer timpieces, are excellent divers watches and tool watches.
IWC probably offers among the best professional divers watches in the world. They absolutely fit the bill as professional divers watches for serious divers.
You would primarily use IWC's divers watches either as professional divers watches or as tool watches. They aren't dressy or elegant so most of them wouldn't go well with a suit or an evening dress. There might be a few exceptions – such as IWC Aquatimers with a color neutral dial and bezel and a metal bracelet. Generally speaking however, IWC Aquatimers wouldn't be ideal dress watches.
By contrast, Rolex and Omega offer versatile, elegant and dressy divers watches that can indeed be used both as divers watches and as dress watches. You don't need to be a professional diver to wear a Rolex divers watch or an Omega divers watch.
IWC's divers watches are therefore more niche specific than other Swiss watch manufacturers.
However to conclude I can say the following:
If you are looking for robust, sturdy, well made, reliable, dependable and accurate professional divers watches and tool watches, the IWC Aquatimer collection is definitely the right choice! You simply can't go wrong with IWC's divers watches.
You should consider the IWC Aquatimer divers watches for what they are – reliable professional tool watches. That's their primary purpose. That's the main reason for purchasing them, and that's the main reason for owning them and wearing them.
---
A Review of IWC Schaffhausen's ranking
My ranking of IWC Schaffhausen: 11th.
It's debatable how you actually rank a brand, and a ranking is never objective, but the best way to turn a subjective ranking into an "objective" one is to rely on certain criteria. My ranking criteria of course are entirely subjective, and they aren't set in stone.
I use 14 criteria in determining the ranking of a particular brand, such as (1) a long and respected history, (2) limited supply and large demand, (3) reputation/status/prestige, (4) whether the brand is independent or not, (5) pioneering spirit and innovations, (6) impact on watchmaking history and modern culture, (7) general in-house production, (8) whether the brand relies on in-house made movements or not, (9) whether or not the brand makes movement complications, (10) steel grade, (11) build quality, (12) price range, (13) good resale value, and (14) market presence.
---
Shop IWC Schaffhausen Watches
Prices for IWC Watches
---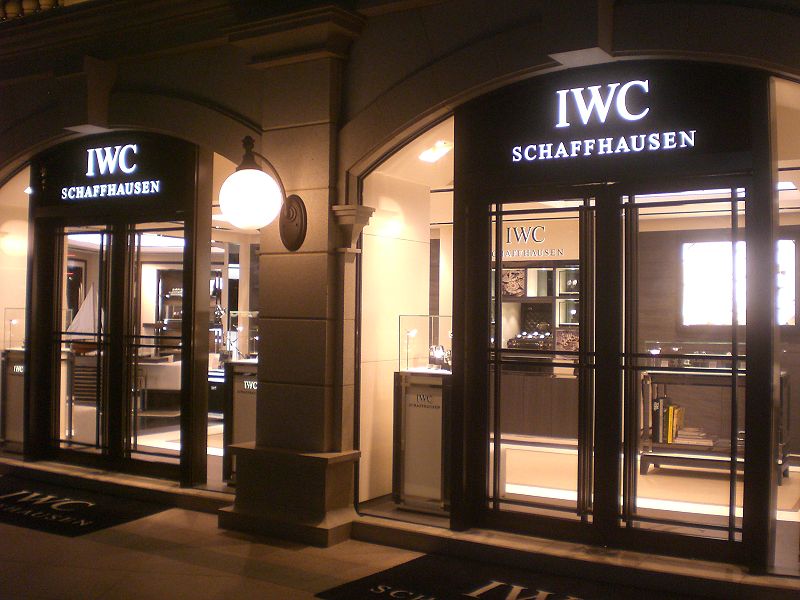 (Image By A22Empa)
---
---
If you have any comments or questions please drop them below and I'll be happy to answer them!
---