Jaeger LeCoultre Brand Review
---
Swiss Luxury Watch Brands Reviews Menu
---


Shop Jaeger LeCoultre Watches:
---
Jaeger LeCoultre – A Member Of Elite Swiss Watchmakers
Jaeger LeCoultre Brand Review By Alexander – Founder and Owner of swissdiverswatches.com
---
A Review of Jaeger LeCoultre's history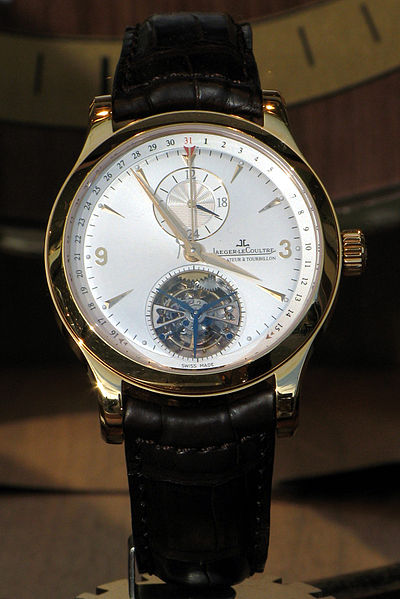 First thing first.
Many people ask how to pronounce this intricate name!
Jaeger LeCoultre is properly pronounced as: Jhey – jher – Luh – Koolt.
In 1833, Antoine LeCoultre founded LeCoultre in Le Sentier in Switzerland. The original name was LeCoultre but became known as Jaeger-LeCoultre in 1937. Jaeger LeCoultre is named after Edmond Jaeger and Antoine LeCoultre.
Jaeger LeCoultre is a subsidiary of Richemont Group, and its headquarters is located in Le Sentier, in Vaud, in Switzerland.
In 1833, Antoine LeCoultre established LeCoultre. He founded his first workshop in 1833. He intended to base the production of Jaeger LeCoultre timepieces on science and he sat a very high standard for refinement and technicality from the very start. Innovation is the key word that defines this excellent brand.
In 1844, it was actually Antoine LeCoultre who discovered the micron. No tool or instrument back in those days could detect any inaccuracies in his watch parts due to the fact that he created watch components of very high quality and accuracy. Antoine LeCoultre's Millionomètre was the instrument he used and was the watchmaking industry's benchmark for well over half a century.
In 1847, Antoine LeCoultre invented the keyless watch. Instead of using a key, he invented a pushbutton to operate the watch.
In 1851, Queen Victoria procured a pendant watch with a LeCoultre movement, at the first Universal Exhibition, in London. At the same show, Antoine LeCoultre was awared a gold medal for his gold chronometer, excellent interchangeable components, lever winding mechanism and cutting-edge production methods. From 1851 and onward, the brand would receive awards of the most prestigious kind.
In 1858, Antoine LeCoultre's son Elie LeCoultre, at the age of 16, joined the company. Just like his father, he was an inventor and a watchmaker. Elie transformed the company from a small family workshop into the company's first manufacture in the Joux Valley.
In 1866, Antoine LeCoultre and his son Elie LeCoultre, established the company's very first manufacture. This was done at a time when most Swiss watchmakers were still based in home based workshops.
In 1870, LeCoultre & Cie made watchmaking history. LeCoultre was able to manufacture small series of movements equipped with complications. This was possible due to new tools and proficiency in accuracy, Since 1870, LeCoultre has manufactured 500 different movements with complications! This includes more than 200 repeaters, more than 200 chronographs and several grand complications.
In 1880, another watchmaker by the name of Edmond Jaeger, left his native Alsace due to the Franco-Prussian war, and started his business in Paris. He was an expert in micro-engineering. He spent much of his life developing speed measuring mechanisms. Examples of such mechanisms would be tachometers, chronographs, and counters used primarily for automobiles, aviation and shipping.
In 1885, the watchmaker developed very small calibres for ladies' watches that could be fit into pendants and rings.
In 1888, the watch manufacturer had more than 500 employees. By that year, most Swiss, French and German pocket watch brands, used LeCoultre's movements.
In 1889, LeCoultre released the first repeater watches with Jaquemart (bellstriker) automata. By that time, LeCoultre had become the foremost specialist in repeater calibres. Repeater calibres are calibres or movements that use chimes to tell time at certain hours or minutes of the day. This is an example of a movement complication which only the most prestigious luxury watchmakers are capable of making.
In 1890, the luxury brand developed new manufacturing methods which made complication watches more reliable. The same year, LeCoultre released the Minute Repeater Hunter Pocket Watch. The samy year, LeCoultre released a pocket watch with an effigy of the Maharaja of Porbandar.
In 1891, the company developed so called "double complications" which contained chronographs and repeaters. This great achievement would later on lead to the production of grand complication movements.
In 1892, LeCoultre was granted patents for an instant chronograph. Since 1888, LeCoultre has filed over 400 patents in practically all areas of watchmaking.
In 1892, the watchmaker released a Minute Repeater Hunter Watch.
In 1895, the brand received a patent fort silent regulators which improved the sound quality of the chime of repeater watches.
From 1895 and onwards, LeCoultre & Cie started manufacturing grand complication movements. Watches with Three complications – chronograph, minute repeaters and a perpetual calendar may be called "Grand Complications".
In 1900, the watch manufacturer released an enamel pendant watch.
In 1900, Elie LeCoultre's son – Jacques-David LeCoultre, became the manager of LeCoultre.
In 1903, something important happened. Jacques-David LeCoultre – the manager of LeCoultre met the Parisian Edmond Jaeger. Jaeger was able to manufacture very thin calibres and thus challenged Swiss perceptions of watchmaking. Mr LeCoultre and Mr Jaeger became friends and this lead ultimately to the birth of the brand name in 1937, as we know it today: Jaeger-LeCoultre.
In 1907, the company released the world's thinnest movement at that time – the LeCoultre 145 Calibre, which was only 1.38mm thick.
In 1910, both LeCoultre and Jaeger were pioneers in the development of wristwatches. The first wristwatches were equipped with movements by LeCoultre and Jaeger. Even pendants and rings were equipped with movements and tiny watch dials.
In 1910, the brand released a Haute Joaillerie pendant (Fine Jewelry pendant) with a minute repeater inside.
In 1915, three men – Jacques-David LeCoultre, Edmond Jaeger and Edmond Audemars, joined forces to develop and create instruments for aeoronautics – and automobile pioneers.
In 1925, the world's smallest movement – the Calibre 101, was developed for an ultra-small ladies' watch called the "Duoplan watch".
In 1926, LeCoultre started manufacturing small clocks. The experience itself was based on building clocks for automobiles.
In 1928, the legendary Atmos Clock was invented by Jean-Léon Reutter. The clock was improved and manufactured by Jaeger-LeCoultre. The very concept of the watch was built on the old idea of perpetual motion. The Atmos clock came close to that vision. The Atmos clock extracted its energy from very slight temperature variations.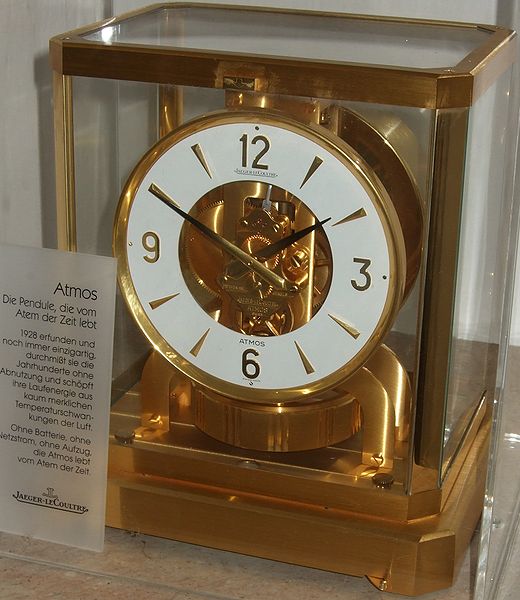 (Image By HNH)
In 1928, LeCoultre released a grand complication watch. This watch was particular because it had a skeletonised dial, a sapphire caseback, and a movement equipped with perpetual calendar, minute repeater and a fly-back chronograph.
In 1929, the watchmaker developed the world's smallest watch movement – ever. It's name was Calibre 101. It had 74 parts and weighed barely one gram. Queen Elizabeth II of England wore a watch equipped with this movement, in 1953 – the year of her Coronation.
In 1931, the watch manufacturer invented the legendary Jaeger LeCoultre Reverso – a small compact dress watch with a rectangular swingable case which could be turned upside down to protect the watch's dial and glass against sports and polo playing. Even today as we speak, it's one of the most classic, iconic and legendary luxury watches ever made.
In 1931, the company invented the hidden winder, which was a winding button placed under the watch.
In 1936, LeCoultre received a patent for Atmos II.
1937 was the official birth year of the Jaeger LeCoultre brand. Previously the brand referred to itself as "LeCoultre", or "Jaeger". From this year and onwards, the brand became known as Jaeger LeCoultre.
In 1938, Jaeger LeCoultre released an ultra small ladies' watch called "Tuile" Duoplan.
In 1939, the luxury watchmaker released its first wristwatches equipped with a calendar.
In 1940, the manufacturer developed and manufactures several military watches for the allied armies. One of these watches is the famous Mark VII pilot watch, which was so accurate and reliable that is was used as an aerial navigation instrument by the US Army Air Corps and by the Royal Air Force.
In 1941, Jacques-David LeCoultre decided to prove at the chronometry competitions, the accuracy and reliability of Jaeger LeCoultre movements. Jaeger LeCoultre won several distinctions of the highest order. One example is the Jaeger LeCoultre 170 tourbillon movement which won a prize at the Neuchâtel Observatoire.
In 1946, after WW2, the wristwatch became the dominant daily watch. Jaeger LeCoultre released the very first automatic Jaeger LeCoultre wristwatch in 1946.
In 1947, Jaeger LeCoultre developed chronograph wristwatches.
In 1948, the company released its first automatic wristwatch with a power-reserve indicator. This is the first automatic watch in watchmaking history with a power-reserve indicator.
In 1949, the luxury watch manufacturer released, for its time, the very accurate and reliable Mark XI pilot watch fitted with a soft iron inner case to protect the movement against magnetism. The watch was used by the Royal Air Force.
In 1949, the brand produced a watch as a tribute to its manager Jacques-David LeCoultre who passed away in 1948.
In 1950, Jaeger LeCoultre invented the famous Memovox watch which is still in use today.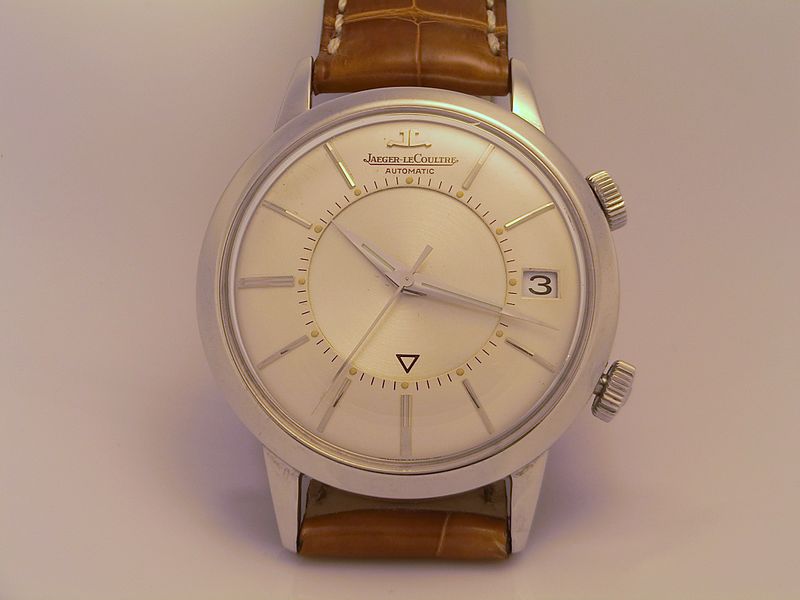 (Image By Ghilt)
In 1953, Jaeger LeCoultre invented Futurematic – the first fully and completely automatic watch without a winding crown.
In 1958, the legendary watch manufacturer developed an unsually robust, well built and rugged wristwatch, which was very accurate and was protected against magnetic fields, and was water- and shock resistant. This is the watch that was used at an adventure involving the first atomic submarines that went underneath the North Pole in 1958. The watch model's name is Geophysic Chronometer 2985.
In 1959, the luxury company invented the first divers watch equipped with an alarm. It's called Memovox Deep Sea.
In 1960, the watch producer developed additional extremely small ladies' watches equipped with miniature calibres that belong in the world of high art of watchmaking (Haute Horlogerie).
In 1965, Jaeger LeCoultre released the Memovox Polaris – Another excellent divers watch with an optimized sound transmission under water. Jaeger LeCoultre patented the triple case back. Its design actually inspired later Jaeger LeCoultre watches such as the Master Compressor.
In 1967, the company developed the Master Mariner Divers Watch for the American market. The same year, Jaeger LeCoultre developed the Memovox Polaris Divers Watch, model E859. This is still one of Jaeger LeCoultre's most famous divers watches.
In 1970, the luxury watchmaker released the Memovox Polaris II.
1981 was an interesting year of Jaeger LeCoultre's quartz movements. Jaeger LeCoultre developed a quartz movement called Calibre 606 with center seconds and a date display. This was the thinnest quartz movement in the this category. In 1982, the quartz Calibre 601 became the thinnest quartz movement – 1.8mm thick! Later on, Jaeger LeCoultre developed the quartz Calibre 608 – 1.6 mm thick! In 1987, Jaeger LeCoultre developed a calibre called 630 Mecaquartz Calibre, which was a hybrid mechanical and quartz movement – on top of that fitted inside one of the smallest chronographs ever made.
In 1984, the legendary luxury watch manufacturer developed a new Reverso case. It was water resistant and it was safe to pivot and turn the case upside down without damaging the watch.
In 1989, Jaeger LeCoultre released the Grand Reveil which was the flagship of the Memovox movements. The watch was fitted with an alarm function and a perpetual calendar.
In 1990, the luxury brand developed the Géographique watch which became an ideal travellers watch since it could display dual time-zones.
In 1991, the watch producer released a limited edition of the Reverso watches equipped with movement complications. The collection is called Reverso 60ème.
In 1992, Jaeger LeCoultre introduced and adopted the world famous Jaeger LeCoultre 1000 hours control – an extremely demanding and exacting quality test control, in which each and every timepiece must pass six thorough tests for 1000 hours – which is roughly equivalent to six weeks or 41-42 days. By introducing this thorough test, Jaeger LeCoultre set a new benchmark for Swiss watchmaking.
In 1994, the luxury watchmaker introduced the Reverso with two dials – one at the front and one at the back. The front dial would indicate the travellers' local time and the dial at the back, which could be turned up, would indicate the second time zone . the reference time.
In 1996, the company reintroduced the art of miniature paintings in enamel.
In 1999, Jaeger LeCoultre placed the Millenium Atmos in the Saint Catherine monastery in the Sinai desert. The clock was calibrated to the year of 3000.
In 2001, the luxury brand introduced the Reverso in platinum.
In 2002, the watch manufacturer developed the famous Master Compressor which is essentially a new version or a new generation of the Memovox Polaris. The Master Compressor can resist extreme conditions and is indeed water resistant.
In 2002, the luxury watch producer released the Reverso Septantieme.
In 2002, Jaeger LeCoultre developed a jewelry technique called snow setting which means the case of the watch is covered in small diamonds.
In 2003, the company introduced the Mysterious Atmos – an Atmos clock with an invisible winding system.
In 2004, Jaeger LeCoultre developed the first grand complication for its wristwatches – the Gyrotourbillon I.
In 2004, Jaeger LeCoultre cooperated with the car manufacturer Aston Martin to release a new collection of Jaeger LeCoultre watches called the Amvox. The letters A and M refer to Aston Martin and VOX refers to Memovox.
In 2005, the luxury brand released the Master Minute Repeater Antoine LeCoultre.
In 2006, Jaeger LeCoultre released the first watch in watchmaking history with three dials – and all three dials are powered by the same movement. This is called the Reverso Grande Complication.
In 2006, the watchmaker introduced the Reverso Squadra.
In 2007, the company introduced a new technological concept called the Dual-Wing with two mechanisms – one built for accuracy, and the other built for an additional complication. Each of these two distinct and separate mechanisms have their own source of power. Both mechanisms however are synchronized by one and the same regulator.
In 2007, Jaeger LeCoultre introduced new line of divers watches called Master Compressor Diving.
In 2007, the luxury watch manufacturer developed the Master Compressor Extreme LAB. This was the first watch in history that needed no lubrication for its movement.
In 2008, the luxury watch brand introduced the Reverso Gyrotourbillon 2.
In 2009, Jaeger LeCoultre was awarded top prizes in chronometry – that is measuring time by intervals and periods. Jaeger LeCoultre was awarded the two first places in the very first chronometry competition of this century.
In 2009, Jaeger LeCoultre developed one of the most sophisticated and advanced wrist watch movements – the Hybris Mechanica a grande sonnerie. This is an 182 Calibre with 1300 parts.
In 2010, Jaeger LeCoultre made watchmaking history again. This year Jaeger LeCoultre released the Master Grande Tradition à Grande Complication. The timepiece is a miniature of the Earth's movements relative to the stars and the Sun.
---
A Review of Jaeger LeCoultre's mission
Jaeger LeCoultre's mission is to conceive, invent, develop, design, manufacture, assemble, test and retail, luxury wristwatches of the highest quality, made according to the most demanding methods, criteria and principles.
For this purpose, Jaeger-LeCoultre uses:
Modern technology and science,
and old-fashioned artisanship – which honors the very finest Swiss tradition of luxury watchmaking.
---
A Review of Jaeger LeCoultre's manufacture
Every aspect of the watch manufacture is being done in-house under one roof at Jaeger LeCoultre.
Jaeger LeCoultre can boast with a total of 180 different kinds of watchmaking expertise! This would include ultra-modern cutting edge technologies and very rare craft professions.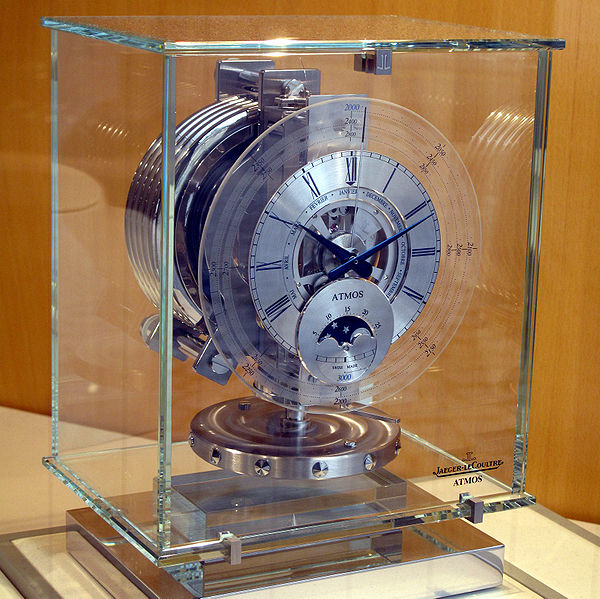 (Image By Rama)
To my knowledge, Jaeger LeCoultre uses among the most refined, intricate and thorough methods for conceiving, developing and making luxury watches. Very few Swiss luxury manufacturers and brands can match Jaeger LeCoultre's technical and artistic prowess and thorough quality tests!
Jaeger LeCoultre's intricate and highly advanced watchmaking would involve aspects such as conceiving, developing, inventing and designing a new concept watch, and having the manufacturers produce and adapt the new cases where the new movements will fit perfectly inside.
Jaeger LeCoultre also manufactures the tools and machines necessary for making the watches.
Jaeger LeCoultre takes great care in making sure that their metals or materials will maintain the highest quality, with methods involving metal/material treatment such as blanking, thermal treatment (to give the metals a durable quality), electroplating (to make sure that the metal's surface will not be altered by the external environment), and highly advanced machinery – which is utilised for the purpose of extreme precision in making the perfect and wanted shape of the watch case.
Like many other Swiss luxury brands, Jaeger LeCoultre assembles their movements by hand and places the movements inside the cases (casing), in isolated and sterile environments, to make sure that no dust enters the watch and the movement.
The dials are decorated and even a layer of varnish is being used for covering the dial's surface.
Movements and cases are usually decorated into a piece of art. Decoration methods would include gem setting, enamelling and engraving their watches.
Probably the most famous aspect of Jaeger LeCoultre's manufacturing process, is the 1000 Hours Control. Many Swiss luxury watch brands submit their watches to the Official Swiss Chronometer Testing Institute (COSC) for accuracy tests.
Jaeger LeCoultre's tests are considerably more demanding than that! COSC tests the movements without their cases. Jaeger LeCoultre tests their finished movements and finished watches for 1000 hours to imitate real life conditions. During those 1000 hours, each and every Jaeger LeCoultre must pass through several tough tests and trials to ensure maximum quality.
As far as I know, this demanding standard is unheard of among other Swiss luxury brands, and manufacturers.
---
A Review of Jaeger LeCoultre's movements
Jaeger LeCoultre is an elite Swiss watchmaker that belongs to a small and exclusive club of luxury watch manufacturers, that produces its own movements, and relies solely, entirely, and exclusively on their own in-house made movements.
Jaeger LeCoultre's mechanical and automatic movements are considered by many to be amongst the most accurate, reliable, well crafted and aesthetically pleasing movements that money can buy today on the commercial market.
You may not know this, but in the past, legendary and respected luxury watch brands such as Audemars Piguet, Breguet, Cartier, Vacheron Constantin and Patek Phillipe, relied to a very large extent on Jaeger LeCoultre's movements. This says a lot about the technical wizardry and craftsmanship of Jaeger LeCoultre.
Jaeger-LeCoultre in-house automatic movement 751G, with 37 jewels, and 28,800 vph. This movement is used for chronographs.
Jaeger-LeCoultre in-house automatic movement 758, with 47 jewels, 28,800 vph, and a 65 hour power reserve. This movement is used for chronographs.
Jaeger LeCoultre in-house automatic movement 751 D, with 41 jewels, 28,800 vph and a 65 hour power reserve.
Jaeger LeCoultre in-house automatic movement 757 with 45 jewels, 28,800 vph, and a 65 hour power reserve. This movement contains a GMT function, a 24 hour indicator, an alarm function and a chronograph.
Jaeger-LeCoultre in-house automatic movement 758, with 47 jewels, 28,800 vph, and a 65 hour power reserve.
Jaeger LeCoultre in-house automatic movement 899 with 32 jewels, 28,800 vph, and a 43 hour power reserve.
Jaeger LeCoultre in-house automatic movement 956 with 23 jewels, 28,800 vph, and a 45 hour power reserve. This movement contains an alarm function.
Jaeger LeCoultre in-house automatic movement 979 with 29 jewels, 28,800 vph, and a 48 hour power reserve. This movement contains a world time indicator, a GMT function, and a depth gauge.
---
A Review of Jaeger LeCoultre's reputation
Jaeger LeCoultre's reputation and prestige are not only excellent – they are quite simply magical and legendary!
Many people ask how to pronounce this intricate name! Jaeger LeCoultre is pronounced: Jhey – jher – Luh – Koolt.
Jaeger LeCoultre absolutely belongs to the top 5 luxury wristwatch brands ever made! I would rank this brand higher than Breguet, Blancpain, Zenith, Rolex, Omega, IWC and Breitling.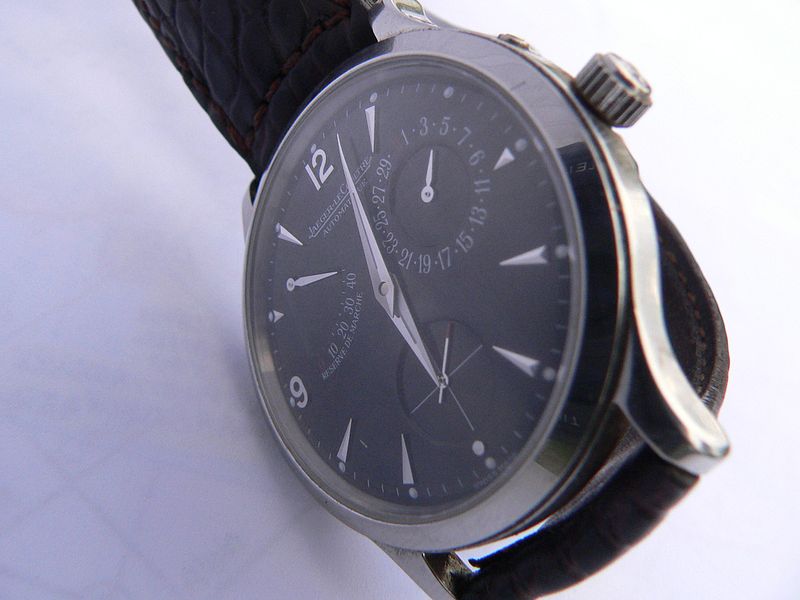 (Image By Rama)
Despite that Jaeger LeCoultre may not be as famous as Rolex, Omega and Breitling, just to mention a few prominent examples, and despite that Jaeger LeCoultre produces a considerably smaller volume of watches, the brand is an icon among watch enthusiasts and connoisseurs – they know that Jaeger LeCoultre belongs to the absolute elite of Swiss luxury watchmakers!
Jaeger LeCoultre has an old and respected history which might interest you. Jaeger LeCoultre started manufacturing watches in 1833.
Every single aspect of the watchmaking is done in-house!
The watchmakers at Jaeger LeCoultre conceive, develop, build, manufacture and assemble the movements, produce and smelt their own metals, and even perform their own quality and accuracy tests.
Jaeger LeCoultre doesn't submit its movements to COSC in order to acquire a chronometer title. No, Jaeger LeCoultre performs its own tests that are even more demanding than COSC!
Jaeger LeCoultre subjects their timepieces to their own tests where each individual timepiece is tested for 1000 hours (roughly equivalent to 41 days) before being released to and sold by watch retailers!
This is the famous "Jaeger LeCoultre 1000-hours Control". Imagine, testing a timepiece for 1000 hours before it's ready to be released on the market. That's what I call quality!
If you are fascinated with movement complications and additional movement functions, Jaeger LeCoultre won't disappoint you. Many of their divers watches are equipped with functions such as World Time, GMT, Depth Gauge, Alarm, a 24-hour indication and Chronograph functions.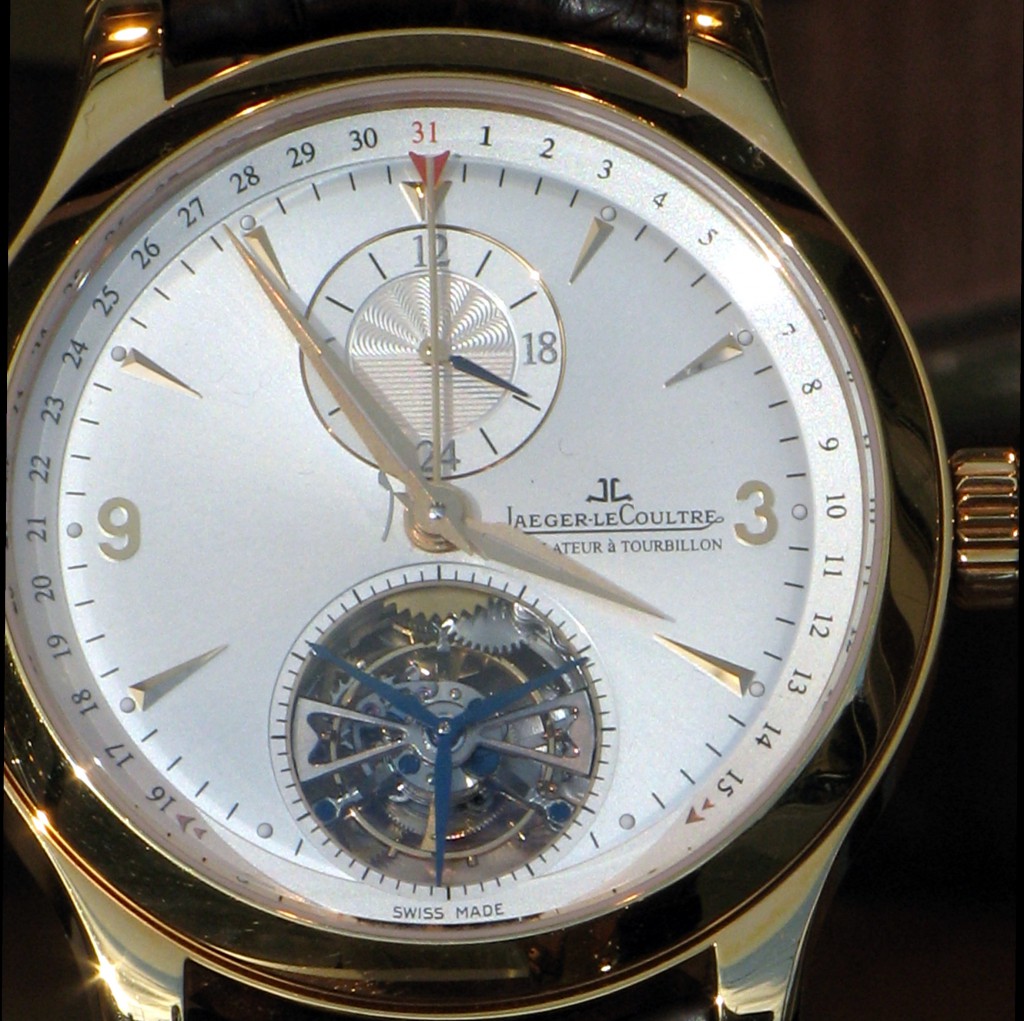 (Image By Rama)
In the past, several other luxury watch brands such as Audemars Piguet, Breguet, Cartier, Vacheron Constantin and Patek Philippe, have purchased their movements from Jaeger LeCoultre.
If the "Holy Trinity" of watches and several other luxury brands procured and purchased their movements from Jaeger LeCoultre in the past – this definitely has to mean something! Jaeger LeCoultre's movements are among the best.
In terms of status, prestige and luxury, Jaeger LeCoultre is just a few notches below "The Holy Trinity" – Patek Philippe, Audemars Piguet and Vacheron Constantin. Personally, I think Jaeger LeCoultre is equal to "The Holy Trinity" of watches.
Many watch enthusiasts believe that Jaeger LeCoultre should be an equal to the "Holy Trinity" of watches – Patek Philippe, Vacheron Constantin and Audemars Piguet.
What is no doubt a fact is that Jaeger LeCoultre is one of the premier and most respected brands – ever made, with a technical refinement and virtuosity that extremely few Swiss Luxury Watch makers can match.
Several celebrities are known to have worn or maybe even still wear Jaeger LeCoultre watches occasionally: former James Bond actor Pierce Brosnan, Leonardo DiCaprio, Meryl Streep and Robert Downey Jr.
Al Pacino and former President Bill Clinton have occasionally worn a Jaeger LeCoultre Master Compressor Diving Watch.
To conclude:
the brand belongs in my opinion in the category of the top 5 luxury wristwatch manufacturers in the world.
Every aspect of the watchmaking is done entirely 100% in-house by Jaeger LeCoultre.
Every single timepiece has passed through JLC's famous 1000-hours Control!
The legendary luxury watchmaker is an unusal brand insofar that there is a very small volume of their watches produced.
Most likely many of their watches are collectibe timepieces.
Jaeger LeCoultre provided many other Swiss luxury brands – including the "Holy Trinity" – with movements in the past.
Jaeger LeCoultre's movements are among the best – high accuracy and aesthetic prowess.
The luxury watch brand belongs to a small exclusive club of luxury watchmakers that manufacture complications.
Jaeger LeCoultre is rare and special. If you want something rare and special, this is definitely the brand for you. It's very unusual that you'll ever see a person wear a Jaeger LeCoultre in the street.
Jaeger LeCoultre produces both elegant dress watches and divers watches used as tool watches, but their divers watches are sufficiently elegant and dressy for formal attire as well.
---
A Review of Jaeger LeCoultre's ranking
My ranking of Jaeger LeCoultre: 5th.
It's debatable how you actually rank a brand, and a ranking is never objective, but the best way to turn a subjective ranking into an "objective" one is to rely on certain criteria. My ranking criteria of course are entirely subjective, and they aren't set in stone.
I use 14 criteria in determining the ranking of a particular brand, such as (1) a long and respected history, (2) limited supply and large demand, (3) reputation/status/prestige, (4) whether the brand is independent or not, (5) pioneering spirit and innovations, (6) impact on watchmaking history and modern culture, (7) general in-house production, (8) whether the brand relies on in-house made movements or not, (9) whether or not the brand makes movement complications, (10) steel grade, (11) build quality, (12) price range, (13) good resale value, and (14) market presence.
---
Shop Jaeger LeCoultre Watches
Prices for Jaeger LeCoultre Watches
---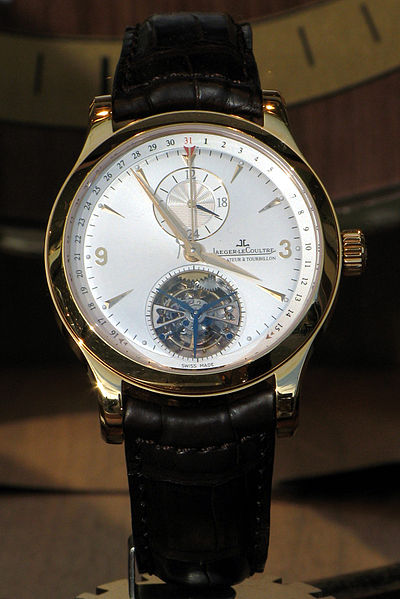 (Image By Rama)
---
---
If you have any comments or questions please drop them below and I'll be happy to answer them!
---