Alpina Brand Review
---
Swiss Luxury Watch Brands Reviews Menu
---

Shop Alpina Watches:
---
Alpina – A Sporty Brand
Alpina Brand Review By Alexander – Founder and Owner of swissdiverswatches.com
---
A Review of Alpina's history
In 1883, Alpina Swiss Watchmakers Corporation was established by Gottlieb Hauser. The original name of the brand was "Alpina Union Horlogère S.A. (UH)/ Schweizerische Uhrmacher-Genossenschaft". In 2002, the watch manufacturer was purchased by Frédérique Constant SA – owned by Peter and Aletta Stas. Alpina's headquarters are located in Geneva, Switzerland.
Gottlieb Hauser united independent Swiss watchmakers who were later on referred to as "Alpinists" – thereby giving the brand its name – Alpina.
Originally, Hauser intended for the brand to optimize the production of timepieces and movements, but the brand ultimately ended up developing and producing its very own chronometers and in-house movements – also referred to as "calibers".
In 1890, Alpina moved its headquarters to Biel/Bienne, where the brand produced its movements or calibers.
In 1910, Alpina developed and designed a pocket watch with a perpetual calendar function. For that time it was indeed a technical feat.
In 1920, following WW1, the watch manufacturer expanded dramatically – approximately 2000 retailers across Europe sold Alpina watches.
In 1969, the Swiss watchmaker developed the "Alpina Diver 10 Seastrong". This was the beginning of Alpina's divers watches. The original Seastrong divers watches were powered by an automatic movement equipped with 17 jewels, were water resistant to 200 meters, and had anti-magnetic propterties.
In the 1970s the quartz revolution started, and the world was flooded with battery or quartz driven watches, thus making automatic and mechanical watches obsolete and less desirable. Alpina, which traditionally manufactured automatic and mechanical watches, was hit hard by what Alpina itself calls the "quartz crisis". However, the brand survived and remained an independent watchmaker.
In the mid 1980s, there was a renaissance of mechanical and automatic watches, but Alpina lacked a clear purpose and direction back in the 1980s, and therefore suffered financially from it. Peter Stas – a Dutch entrepeneur, saved Alpina as a brand, and rediscovered that Alpina had a rich history and legacy within horology, and that the sports watch tradition is what truly defines the very essence of the brand.
In 2002, Alpina was purchased by Frédérique Constant SA which is owned by Peter Stas.
---
A Review of Alpina's mission
Alpina is specialized in producing and designing extreme sports watches. Gottlieb Hauser defined the Swiss watchmaker's mission by requiring that the brand should fulfill 4 main conditions:
Stainless steel.
Antishock properties.
Antimagnetic properties.
Water-resistance.
What is truly interesting about Hauser's vision, is that these four main properties, are exactly what define modern Swiss divers watches. Alpina is truly a pioneer in watch making.
What defines this brand, is that they manufacture very reliable extreme sports watches with robust cases and accurate movements. Withstanding high altitudes or great depths is a true trademark of their watches.
Each Alpina sports watch – divers watches are included in this category – needs to be assembled by hand by professional watchmakers, in order to meet the criteria of being called an Alpina sports watch.
---
A Review of Alpina's manufacture
They make their own movements to a certain extent, even though the brand still relies heavily on ETA/Valjoux movements, manufactured by Swatch Group. Alpina is also technically capable of producing tourbillons which usually only the finest watchmakers are capable of doing.
Alpina assembles each watch by hand. Before each watch is assembled, it needs to go through a quality control which involves many steps.
These steps involve simulation of gravitational forces that are caused by hand and arm movements, a very thorough visual inspection of the automatic movement's rotor, accuracy tests, water-resistance tests, manual control of the watch's functions, and a power reserve test.
---
A Review of Alpina's movements
Most movements utilized by this Swiss watch brand, are ETA/Valjoux movements – manufactured by Swatch Group, and Sellita movements – manufactured by Sellita.
But the truth is, Alpina has manufactured its own movements for the past 130 years. This watch manufacturer is no stranger to in-house made movements. Since 2002, Alpina is known for 4 main (and new) movements introduced to the market: Small Date, Regulator, Tourbillon, and World Timer. However, most Alpina divers watches do rely on ETA/Valjoux movements or Sellita movements.
The Alpina divers watches use either automatic movements or quartz movements.
AL-240 quartz movement.
AL-525 automatic movement, base movement is Swiss ETA 2824-2 automatic, with 26 jewels, 28,800 vph, and a 38 hour power reserve.
AL-725 automatic movement, base movement is Swiss ETA/Valjoux 7750 movement, with 25 jewels, 28,800 vph, and a 46 hour power reserve. This movement is used for chronographs.
AL-880 automatic movement, base movement SW500 chronograph (Sellita 500), with 25 jewels, 28,800 vph, and a 46 hour power reserve.
---
A Review of Alpina's reputation
Alpina produces good, decent and well made watches primarily meant for physically active people or for those who want sporty looking watches. As far as ranking is concerned, I'd place Alpina in the top 30-40 brands of the world.
Alpina truly makes good, solid, robust and reliable Swiss Made luxury timepieces in a relatively affordable price range. As far as brand comparisons are concerned, I do think that this watch maker belongs in the same category as TAG Heuer, Longines or Oris, as far as price range and quality are concerned. Indeed, Alpina makes very good watches, but they aren't necessarily as famous as say TAG Heuer and Longines.
Their watches are quite affordable in comparison to higher end luxury brands. Despite the fact that the brand has existed for more than 130 years, Alpina isn't a very well known brand, and there aren't many retailers around the world offering their watches.
Alpina, despite its lack of fame, is a big bang for your buck. The watch maker does manufacture to a certain extent its own movements, and even tourbillons at relatively moderate prices. The brand however still relies heavily on ETA/Valjoux movements manufactured by Swatch Group.
Alpina's lack of fame may not necessarily be a "bad" thing. It makes the brand different, and if you would wear this brand on your wrist, it would become an interesting topic. If we can refer to brands in the same price and quality category: Most people have heard of TAG Heuer, which makes it a "mainstream brand", and many people have heard of Longines, but few have heard of Alpina. This makes the brand unusual and unique.
If you desire a relatively affordable Swiss watch brand similar in price range and quality to its peers, but different, I'd definitely say that you should go with Alpina.
---
A Review of Alpina's ranking
My ranking of Alpina: top 30-40 brands.
It's debatable how you actually rank a brand, and a ranking is never objective, but the best way to turn a subjective ranking into an "objective" one is to rely on certain criteria. My ranking criteria of course are entirely subjective, and they aren't set in stone.
I use 14 criteria in determining the ranking of a particular brand, such as (1) a long and respected history, (2) limited supply and large demand, (3) reputation/status/prestige, (4) whether the brand is independent or not, (5) pioneering spirit and innovations, (6) impact on watchmaking history and modern culture, (7) general in-house production, (8) whether the brand relies on in-house made movements or not, (9) whether or not the brand makes movement complications, (10) steel grade, (11) build quality, (12) price range, (13) good resale value, and (14) market presence.
---
Shop Alpina Watches
Prices for Alpina watches:
---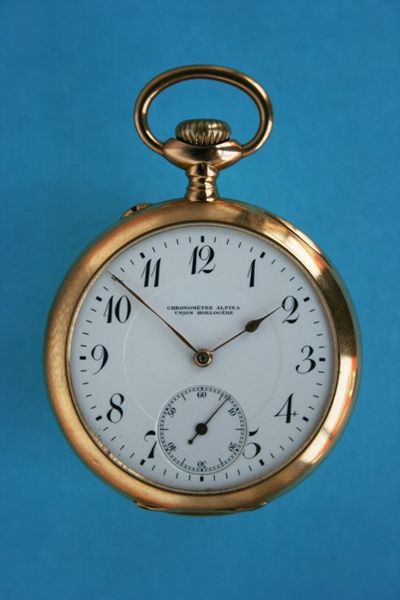 (Image By P. Andriessen)
---
---
If you have any comments or questions please drop them below and I'll be happy to answer them!
---