Breguet Brand Review
---
Swiss Luxury Watch Brands Reviews Menu
---

Shop Breguet Watches:
---
Breguet – Master of Innovation – Old Venerable History
Breguet Brand Review By Alexander – Founder and Owner of swissdiverswatches.com
---
A Review of Breguet's history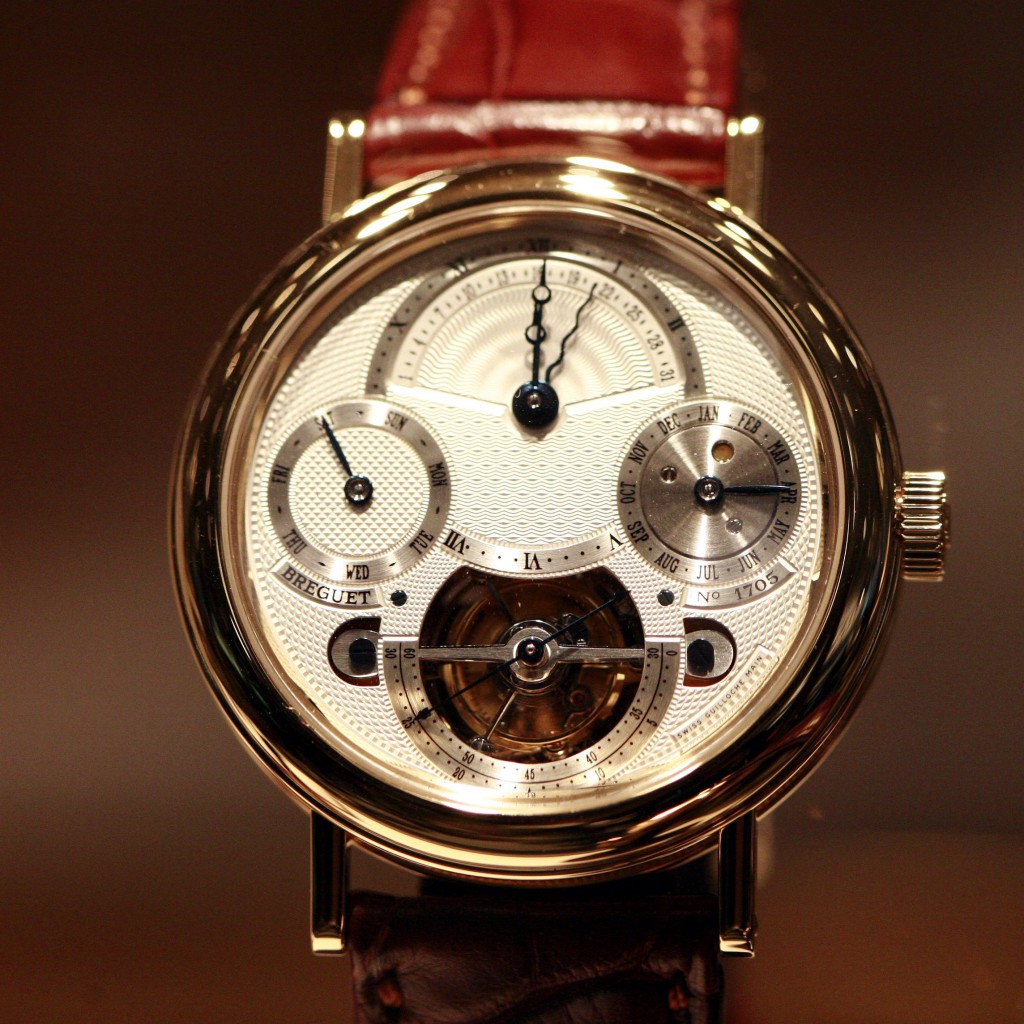 In 1775 Abraham-Louis Breguet founded Breguet in Paris. It's one of the oldest luxury watch manufacturers in the world. Breguet himsef was born in Neuchâtel Switzerland but he spent most of his productive life in Paris. The origins of the Breguet brand should therefore be considered to be Swiss and French.
The Swiss watchmaker is nowadays a subsidiary of the Swiss Swatch Group, and the timepieces are entirely produced in Vallée de Joux, in Switzerland.
The watch manufacturer became a popular and coveted luxury watch brand among the diplomatic, military, scientific and financial elites of the 19th and 20th century.
Famous wearers and patrons of the Breguet brand are Queen of France Marie Antoinette, Napoléon Bonaparte, Prince of Benevento Talleyrand, Empress Josephine, Sultan of the Ottoman Empire – Selim III, Queen of Naples Caroline Murat, Tsar Alexander I of Russia, Michel Ney – Marshal of France, Count Axel von Fersen, Sir Winston Churchill – Prime Minister of the United Kingdom, and Arthur Rubinstein.
Breguet can boast with a long list of inventions and respected patrons in watchmaking history. Below is timeline of Abraham-Louis Breguet, his inventions, and the development of the Breguet company until our days:
In 1775, one of the greatest watchmakers of all time – Abraham-Louis Breguet established the Breguet luxury watch brand in Paris.
In 1780, the first self-winding watch (automatic movement) was invented.
In 1783, the minute repeater's gong spring was invented.
In 1786, the first guilloché dials were introduced.
In 1789, Breguet invented the ratchet key, commonly known as the Breguet key. The escapement needed no oil for its operation.
In 1790, an anti-shock device called "pare-chute", was invented.
In 1795, the watchmaker developed the ruby cylinder, the Breguet balance-spring, and perpetual date calendar.
In 1796, the brand invented the first single hand watch – literally a watch with a single hand. The same year Breguet also designed a travel clock encased in a small gilt bronze case.
In 1798, Breguet is granted a patent for the constant force escapement. The same year, the legendary watchmaker invented the musical chronometer – a clockwork that served as a metronome. A metronome is mechanical device used as a tool by musicians in order to determine the pace and tempo of a piece of music – usually with pendulum swings.
In 1799, the first "tact watch" was developed.
In 1801, Breguet was granted a patent of the world famous horological invention used by many higher end luxury watchmakers today – the tourbillon – a mechanical device to counteract the Earth's gravity's effect on the movement's accuracy and reliability.
In 1810, the first wristwatch ever was developed. The wristwatch was ordered by the Queen of Naples – Caroline Murat, and was completed in 1812.
In 1812, clocks with an off-center hour ring appeared that year.
In 1815, a marine chronometer with two going-barrels was introduced.
In 1819, the watchmaker invented an astronomical telescope called the Ocular which could measure tenths and hundredths of a second.
In 1820, Breguet developed the precursor of the modern chronograph. His chronograph was called "montre à double secondes".
In 1823, the great watchmaker and inventor Abraham-Louis Breguet passed away.
In 1830, the watch manufacturer invented the first watch with a keyless winding. Until then, all clocks and watches were wound with a key.
In 1834, Breguet was granted a patent for the "Sympathique clock" which was equipped with an additional clock rewinding system.
In 1901, Sir Winston Churchill purchased his first Breguet.
In 1930, Arthur Rubinstein purchased his first Breguet.
In 1939, the brand was granted a patent for the sidereal timekeeper.
In 1972, the watchmaker developed new wristwatch models which resulted in a new classic line.
In 1976, the Breguet workshops were transferred to Vallée de Joux in Switzerland, which means from that year and onwards, all production is based in Switzerland.
In 1988, the classic line is equipped with a tourbillon as a tribute to the founder Abraham-Louis Breguet.
In 1990, Breguet built a new "Sympathique clock" and the Marine line was launched.
In 1991, Breguet was granted a patent for a wristwatch equipped with a perpetual equation of time.
In 1995, the watchmaker launched the Type XX line.
In 1997, the brand was granted a patent for a watch movement equipped with a straight-line perpetual calendar.
In 1998, the watch manufacturer equips its Marine line with the smallest self-winding/automatic chronograph movement in the world.
In 1999, Breguet was purchased by Swatch Group.
In 2000, the brand celebrated its 225th anniversary.
In 2001, the manufacturer celebrated the 200th anniversary of the tourbillon.
In 2002, the Swiss watch producer was granted a patent for the moon-phase mechanism of the "Reine de Naples" wristwatch.
In 2003, Breguet was granted patents for two inventions – in just one year! The patents both involved the same watch: the Breguet alarm watch called "Le Réveil du Tsar". The patents involved a column-wheel that activate or lock the alarm, and another mechanism which co-ordinates the local time with the alarm.
In 2004, the Swiss brand developed the self-winding/automatic tourbillon movement. The same year, Breguet was granted a patent for a balance made of titanium.
In 2005, the watch producer developed the Tradition line.
In 2006, the watch manufacturer started using a certain amount of components made of silicon inside the watch movement. This was a novelty because magnetic fields cannot affect silicon components.
In 2007, the brand launched the Tradition 7047 Grande Complication Fusee Tourbillon.
In 2008, Breguet reproduced a pocket watch called "Marie-Antoinette".
In 2009, the Swiss watch producer launched the Classique 7637 Grande Complication Minute repeater.
In 2010, Breguet invented a shock-protection mechanism called the magnetic pivot. It's used to level off and stabilize the balance wheel's performance.
---
A Review of Breguet's mission
If there truly is one single word that captures the very spirit of what Breguet as a brand stands for, that word would be invention.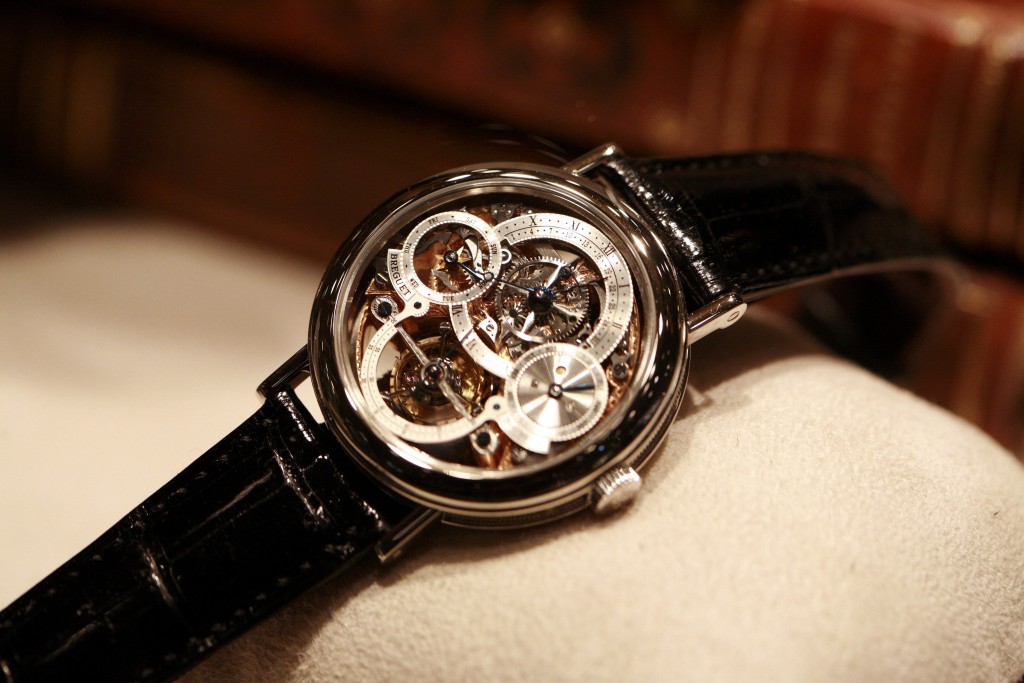 (Image By Rama)
Ever since the master watchmaker Abraham-Louis Breguet invented and established the Breguet brand in 1775, the watch manufacturer has been granted numerous patents for several inventions that even the most prestigious and luxurious Swiss watch brands use today and take for granted.
The most famous invention by Breguet is most likely the tourbillon which he received a patent for in 1801.
Breguet has made an everlasting impression on culture and watchmaking and the world of watchmaking simply wouldn't be the same without the genius and the innovative spirit of Breguet.
---
A Review of Breguet's manufacture
Breguet uses in-house made movements. Their watches are handmade just like "The Holy Trinity", Jaeger LeCoultre and Blancpain.
Breguet uses highly advanced equipment and computers to manufacture the components of the brand's movements, but relies on master watchmakers and artisans to assemble the movements and the timepieces entirely by hand.
Just like in the old days of watchmaking, Breguet indeed insists that a timepiece must be assembled by hand by a master watchmaker.
What truly characterizes Breguet is the unique combination of innovation, and the mixture of aesthetics and mechanical constraints. Breguet usually uses highly complicated in-house movements and place them in cases with a classic design. This means that their sportier looking watches such as the Breguet Marine and the Breguet Transatlantique Type XX, have indeed a "classic" look to them as well.
---
A Review of Breguet's movements
Despite being a wholly owned subsidiary of Swatch Group, Breguet's watches rely exclusively on Breguet's in-house made movements – this includes the Marine and Transatlantique Collections, that offer you the divers watches.
Breguet in-house automatic movement 517GG, with 35 jewels.
Breguet in-house automatic movement 519 R, with 30 jewels. This movement is equipped with an alarm and a power reserve indicator.
Breguet in-house automatic movement 583 Q/1, with 24 jewels. This movement is equipped with a separate second hand, and a chronograph.
Breguet in-house automatic movement 554.3, with 28 jewels. This movement is equipped with a tourbillon, a separate second hand, and a chronograph.
Breguet in-house automatic movement 582, base movement Lemania 1350, with 25 jewels, 28,800 vph and a 48 hour power reserve.
Breguet in-house automatic movement 582 Q, with 25 jewels.
Breguet in-house automatic movement 584 Q, with 26 jewels, 28,800 vph and a 48 hour power reserve.
Breguet in-house automatic movement 589 F, with 28 jewels.
---
A Review of Breguet's reputation
Breguet is a high end Swiss luxury watch brand with French origins.
Breguet's history dates back to 1775 which makes it an old brand with a proud heritage. The brand was founded by the legendary Abraham-Louis Breguet, who was one of history's greatest watchmakers. It's Breguet who invented the tourbillon.
Without a doubt, I'd place Breguet among the top 10 most prestigious luxury watchmakers of all time. Breguet may not be as famous as Rolex, Omega and Breitling, but Breguet is without question, one of the most desirable brands among watch enthusiasts and connoisseurs.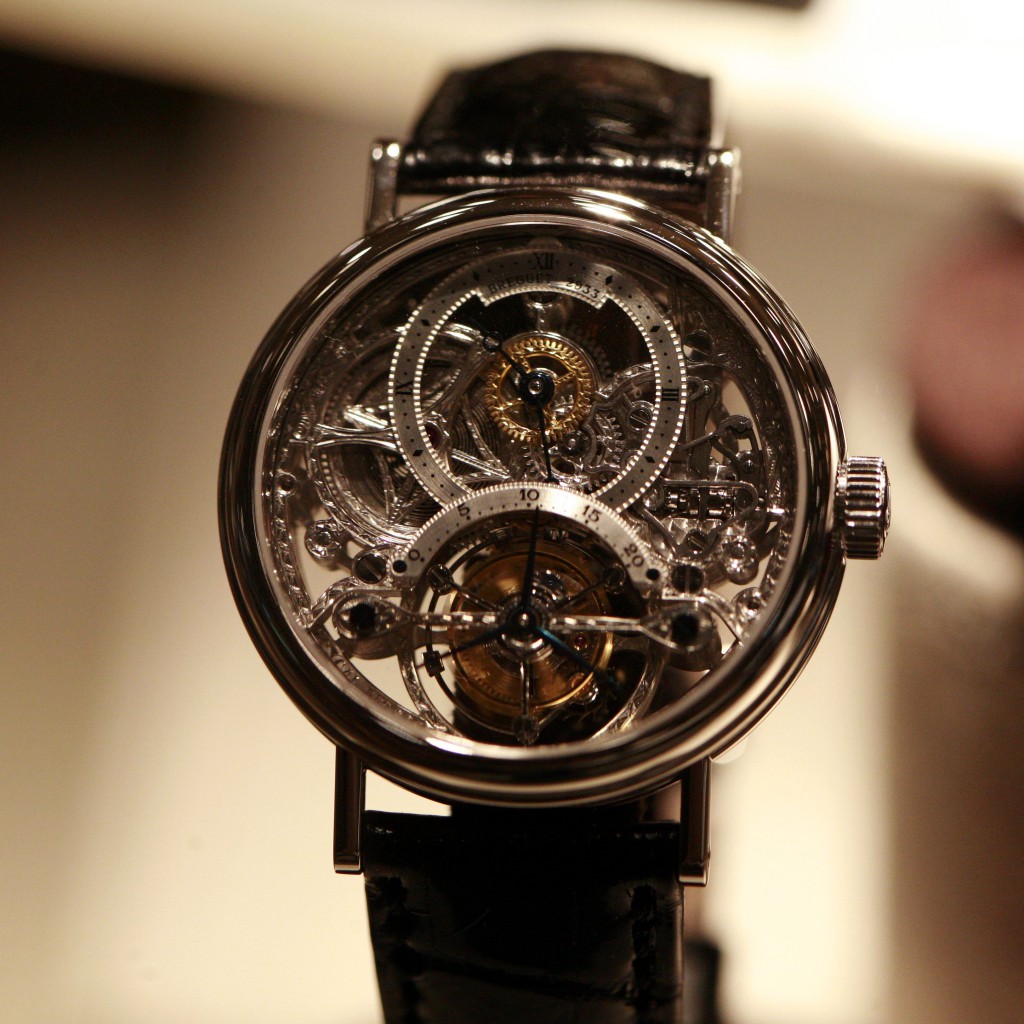 (Image By Rama)
Just like "The Holy Trinity", Jaeger LeCoultre and Blancpain, Breguet is the epitome of Haute Horlogerie – meaning the high art of watchmaking.
In 1999, under the leadership of former CEO Nicolas G. Hayek, Swatch Group purchased Breguet and revived this somewhat dormant brand, and used the economic and industrial muscles of Swatch Group – the largest single manufacturer of Swiss watches, to improve the brand and use the technical resources and materials to preserve the art of higher watchmaking.
Under Mr Hayek's leadership, Breguet even developed a double-tourbillon, developed a new movement each and every year and registered more than 77 patents. This level, quality and quantity of horological innovation no doubt made Breguet a yardstick within Haute Horlogerie.
As far as brand comparisons are concerned, Breguet is considered to rank higher in the Swiss luxury watch hierarchy than say Rolex. Rolex is often used as a reference and a yardstick within the Swiss luxury watch industry since it's the most well known brand. On a personal note: I would personally rank Rolex higher than Breguet, and the reason I mention this is because the luxury watch brand ranking itself is obviously subjective, which some people may or may not agree with.
The major difference in the approach to watchmaking between two highly respectable brands such as Rolex and Breguet, is that Rolex is truly the epitome of horological dependability and reliability – Rolex's movements are among the most accurate and reliable automatic movements on the market, but their movements are quite simple hard-wearing, durable work horse movements meant to last year after year. Breguet on the other hand represents the high art of watchmaking and makes their movements into a true work of art.
However, Breguet just like Blancpain, is wholly owned by Swatch Group and is a commercial midget compared to Rolex which is a commercial giant and fully independent.
Why opt for Breguet? There are several good reasons for that:
This particular Swiss brand is very rare and very unusual, in terms of production volume.
The brand stands out in its horological brilliance.
Breguet represents true and groundbreaking innovation.
Their brand can offer you complicated movements.
The brand has a great history and heritage.
Breguet isn't the most commonly seen watch brand on a person's wrist.
If you want all of these criteria fulfilled, Breguet is most definitely the right choice for you.
However this isn't the sportiest brand on the market. Tool watches and Breguet watches are each others' direct opposites. Breguet would most likely appeal to you if you prefer that your watch has a classic and dressy design.
---
A Review of Breguet's ranking
My ranking of Breguet: 7th.
It's debatable how you actually rank a brand, and a ranking is never objective, but the best way to turn a subjective ranking into an "objective" one is to rely on certain criteria. My ranking criteria of course are entirely subjective, and they aren't set in stone.
I use 14 criteria in determining the ranking of a particular brand, such as (1) a long and respected history, (2) limited supply and large demand, (3) reputation/status/prestige, (4) whether the brand is independent or not, (5) pioneering spirit and innovations, (6) impact on watchmaking history and modern culture, (7) general in-house production, (8) whether the brand relies on in-house made movements or not, (9) whether or not the brand makes movement complications, (10) steel grade, (11) build quality, (12) price range, (13) good resale value, and (14) market presence.
---
Shop Breguet Watches
Prices for Breguet Watches
---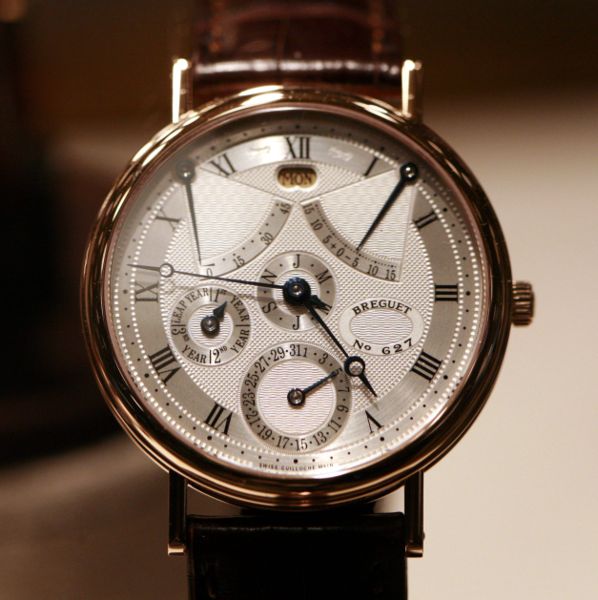 (Image By Rama)
---
---
*Many Breguet Marine watches are indeed equipped with a diver's bezel, which is standard equipment for divers watches. Technically speaking, some Breguet Marine watches aren't divers watches since they lack the diver's bezel. With or without the diver's bezel, the Breguet Marine Collection fulfills the minimum water resistance requirement for divers watches, which is 330 feet/100 meters.
---
If you have any comments or questions please drop them below and I'll be happy to answer them!
---