Bell & Ross Brand Review
---
Swiss Luxury Watch Brands Reviews Menu
---

Shop Bell & Ross Watches:
---
Bell & Ross – Approved By Professionals For Extreme Conditions
Bell & Ross Brand Review By Alexander – Founder and Owner of swissdiverswatches.com
---
A Review of Bell & Ross' history
In 1993, Bell & Ross was founded by Bruno Belamich and Carlos A. Rosillo, and is thusly a relatively new Swiss Luxury Watch brand. Bell & Ross is an independent company. What characterizes the brand is that it's produced for professionals that work in extreme conditions such as pilots and divers.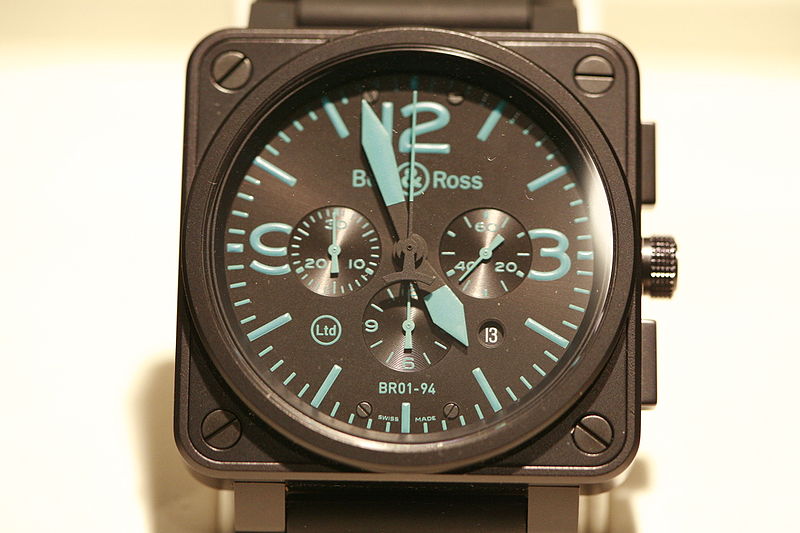 (Image By Rama)
Bell & Ross was born as an idea when a team of aircraft control specialists and designers joined forces for a very distinct and specific purpose: to design and develop extreme tool watches for professional use.
This is a young, successful and growing brand with an increasing popularity and presence on the global market.
Bell & Ross has studied professions in which people are forced to deal with extreme temperatures and pressures. Bell & Ross together with military pilots, bomb-disposal experts, astronauts and divers, have combined their professional knowledge to develop the ultimate professional tool watch.
In 1993, Carlos A. Rosillo and Bruno Belamich joined forces to found Bell & Ross – a brand which is based on the principle that the function should be the main factor and ingredient for shaping the form of the watch. Reliability, efficiency and legibility are the Words that define Bell & Ross.
As a result of their co-operation they released collections called Space One and Hydro.
In 1994, Bell & Ross issued Space 1 again. This was actually the first chronometer watch with an automatic movement worn in space.
In 1996, the French Security Services requested a robust and reliable watch for the bomb disposal unity. The watch manufacturer released the Bell & Ross Bomb Disposal Type.
In 1997, the Hydro Challenger broke the world record of water resistance – 11,000 meters!
In 1998, the brand released the Space 3 Chronograph which was the horological embodiment of the brand's combined and total knowledge.
In 2001, the Swiss watchmaker released a multifunction watch with both an analog and a digital display. A bit unusual in a double sense because the watch combined modern technology with a classic design, and Bell & Ross usually makes professional tool watches and not classic watches.
In 2002, Bell & Ross developed a jumping hour hand watch with a power reserve indicator.
2002: Bell & Ross had a close cooperation with the German watchmaker Sinn until 2002. In 2002, the cooperation was discontinued and since then Bell & Ross has been an independent company. This is the year when Bell & Ross started an independent manufacture at Chatelain in Chaux des Fonds.
In 2005, Bell & Ross released the famous BR 01 wristwatch – Bell & Ross' pilot's watch.
---
A Review of Bell & Ross' mission
The brand's mission is based on 4 design principles:
Precision.
Functionality.
Visibility.
Water-resistance.
The main purpose of Bell & Ross is to serve as a reliable well built professional tool watch which can be used in the most extreme situations.
---
A Review of Bell & Ross' manufacture
Master watchmakers, professional users, engineers and designers jointly create new Bell & Ross watches, by combining their skills in order to develop and manufacture utilitarian watches equipped with the bare essentials in mind.
The design of the watch is entirely based on a utilitarian perspective – every aspect of the dial and the case, is meant to be practical and user-friendly.
Water resistance, readability, precision and performance are the 4 key words that determine the aesthetic looks of Bell & Ross' watches.
Bell & Ross' movements are known to be accurate and reliable. Bell & Ross relies mostly on Sellita movements, manufactured by the Swiss movement producer called Sellita. These movements keep time accurately but they don't represent any avant-garde technology, and these are rather commonly made and commonly used generic movements. They are reliable machines but they don't utilize the sort of movements that you would expect to find in higher end luxury watch brands.
---
A Review of Bell & Ross' movements
Sellita automatic SW200, with 26 jewels, 28,800 vph, and a 38 hour power reserve.
Bell & Ross automatic movement 362354, with 21 jewels, 28,800 vph, and a 42 hour power reserve.
Bell & Ross automatic movement 363085, base movement ETA 2894 automatic movement, with 37 jewels, 28,800 vph, and a 38 hour power reserve. This movement is used for chronographs.
The BR02 Collection either uses a Swiss Made Sellita SW200, which is Sellita's equivalent to the ETA 2824 movement, or the Bell & Ross 363085, which is a modified ETA 2894.
These aren't the most fancy movements, and they certainly aren't equivalent to higher watchmaking, but these are decent and good movements that absolutely fill their purpose. These movements are known to be accurate and reliable.
The Sellita SW200 movement is manufactured by Sellita in La Chaux de Fonds. Sellita is not a part of Swatch Group. These are two separate companies.
---
A Review of Bell & Ross' reputation
Bell & Ross has a very good reputation – it's a successful brand. Bell & Ross is getting increasingly popular year after year, and retailers offer Bell & Ross on all the world's continents – with the unique exception of Antarctica!
As far as ranking is concerned, I'd place Bell & Ross among the world's top 25-30 brands.
Elite police officers, military pilots, race car drivers, astronauts, underwater bomb-disposal units and submariners are known to frequently use Bell & Ross watches in their professions.
The brand is known to produce extremely well made, rugged and professional tool watches that can be used in the most extreme situations. If I'm not mistaken, Bell & Ross does offer dress wathes or dressy looking watches, but it's the instrumental watches – the Aviation/BR 01 Collection, and the Marine/BR02 Collection, that have truly made Bell & Ross a household name. The tool watches would typically not be used with a suit or an evening dress, but make perfect sense as a reliable sports watch for daily use.
If you are looking for a versatile brand which offers all sorts of timepieces which can be both used on a daily basis and for life's special occasions, this brand may not be the right one for you. This is not a dress watch brand.
If you are looking for a Swiss luxury brand which stands for and can offer luxury at the highest level, equipped with in-house made movements with an unmatched technical brilliance and virtuosity, then I'm sorry to say that this brand may not be the right one for you.
There are some Bell & Ross watches equipped with tourbillons – mechanical devices which normally can be found only in the most expensive watch brands, but truth be told, this is rather the exception than the rule.
Bell & Ross is neither meant to be used as a piece of jewelry nor as a luxurious dressy looking watch. Bell & Ross is meant first and foremost to serve as an extremely reliable, well built, rugged, professional tool watch which can be used in the most extreme situations. Bell & Ross is in my opinion a cool brand which offers among the coolest designs you'll ever find on the market, and offers timepieces in a luxury watch price range, but it's not meant to be an elegant or dressy looking luxury watch.
Bell & Ross is a very niche specific Swiss Luxury Brand, which appeals only to a certain kind of taste. This brand would appeal to many people but is quite frankly not for everyone. The Bell & Ross watches are in their true element when they are used by professionals such as pilots, divers and firefighters.
---
A Review of Bell & Ross' ranking
My ranking of Bell & Ross: top 20-30 brands.
It's debatable how you actually rank a brand, and a ranking is never objective, but the best way to turn a subjective ranking into an "objective" one is to rely on certain criteria. My ranking criteria of course are entirely subjective, and they aren't set in stone.
I use 14 criteria in determining the ranking of a particular brand, such as (1) a long and respected history, (2) limited supply and large demand, (3) reputation/status/prestige, (4) whether the brand is independent or not, (5) pioneering spirit and innovations, (6) impact on watchmaking history and modern culture, (7) general in-house production, (8) whether the brand relies on in-house made movements or not, (9) whether or not the brand makes movement complications, (10) steel grade, (11) build quality, (12) price range, (13) good resale value, and (14) market presence.
---
Shop Bell & Ross Watches
Prices for Bell & Ross Watches
---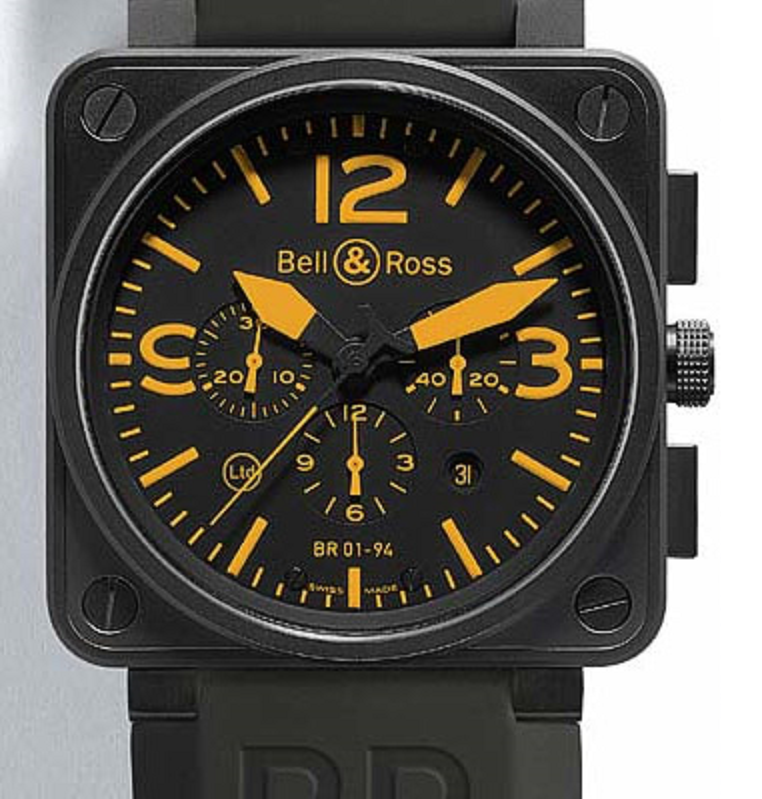 (Image By Guy Sie)
---
---
If you have any comments or questions please drop them below and I'll be happy to answer them!
---